Event Summary
Money, Mozart and World War Three – One of France's most popular personalities conducted a leading British chamber orchestra at Alan Howard / JW3 Speaker Series in London on February 24th. Jacques Attali is an eminent economic advisor, theorist, political commentator and for the last 10 years an orchestra conductor. 
The founding President of the European Bank for Reconstruction and Development and economics advisor to French President, Francois Mitterrand, Attali has written more than 60 books, and has been voted by fellow Frenchmen their favourite personality.
For this sixth event in Alan Howard / JW3 Speaker Series, a speaker's platform was swapped for a conductor's lectern, so Attali could conduct four pieces played by Southbank Sinfonia, a leading orchestral academy for young musicians. In addition to two Mozart pieces, the orchestra played Rossini's Overture from the Barber of Seville and Bloch's Piere. Following the concert, French broadcaster, Irma Danon, interviewed Attali, and asked him to expand on his views that music helps us understand the world better.
"Music is virtual and therefore can explore the potential of reality much quicker than material matters"
Challenged by Danon on his support for the troubled Euro, Attali argued Europe was the best place to live. "If you take different criteria, like standard of living, life expectancy, governance, corruption, nothing is better than Europe," he said.
As founder of the PlaNet Finance Group, a microfinance organisation dedicated to alleviating poverty by encouraging entrepreneurship, Attali believes stronger world governance is needed.
"What you need more than anything else is the rule of law. If we can't establish property rights, then you can't have any growth. People do not invest"
Attali confirmed his view that the Ukraine conflict could evolve into World War Three if West-Russia relations don't improve.
"If we isolate Russia, then there is more chance of it becoming a dictatorship, but if we link with Russia then it could become a democracy"
Event Photographs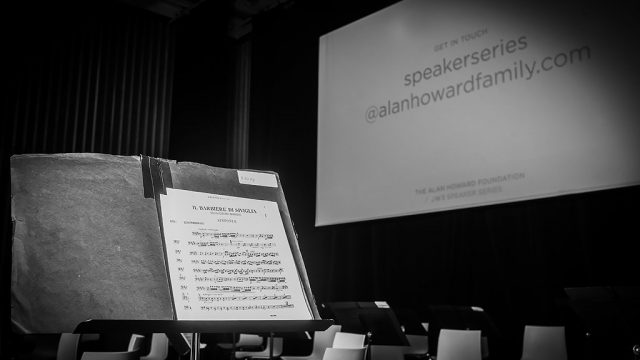 View photos of the event
Featuring

Jacques Attali is a writer, economist and senior civil servant.
Biography

Southbank Sinfonia brings together 32 outstanding graduates from all over the world to perform classical music.
Biography
Go to full events archive