Event Summary
Summary By Alicia Buller
Speaking at JW3 cultural centre in London on 28 February 2018, British screenwriter and director Richard Curtis told the audience that his smash-hit films, such as 'Notting Hill' and 'About Time', are about 'trying to be as cheerful as possible.'
Curtis, who kicked off his illustrious screenwriting career with the classic film 'Four Weddings and a Funeral', told a rapt audience: "All I'm trying to do is take a slice of those moments we all have – let's say, when we're in the pub with friends and the drinks and jokes are flowing. I take that 'life is going well' feeling and I slice a bit off the top for my films. I remember the good times."
The veteran director was interviewed live on JW3 stage by one of his star actors Vanessa Kirby, who featured in About Time alongside Rachel McAdams and more recently played Princess Margaret in the award-winning Netflix series 'The Crown'.
Together, in a humorous and friendly exchange, Curtis and Kirby interviewed each other about the film industry and their experiences across their careers, as well as their charitable endeavours.
Kirby told Curtis her love of acting first began when she was acting in a school play and she noticed she was 'thinking somebody else's thoughts'.
"I think back to that moment as being when I became conscious of what acting is," she said. "The act of being someone else is kind of weird, because you are literally thinking another person's thoughts. Our job is weird."
Kirby said the 'intensity' of her role in The Crown often led to her walking around with Princess Margaret's thoughts.
"With The Crown, I was living so closely with Margaret's energy. It was the first time I was taking the character home with me. I felt inferior to Claire Foy [Queen Elizabeth] the whole time… I thought, are these my feelings or Margaret's?"
Curtis added that The Crown is the 'most extraordinary' tale but "it's actually very relatable to normal families – the jealousies, disappointments and so on."
Speaking of the casting process, Curtis said choosing actors based on auditions is challenging because the tests are conducted in such false environments.
"So what I look for is whether the person has the soul of the character rather than purely their performance. I know what I'm looking for: integrity, realism and also a command of comedy. If you can make us laugh that helps," the director said.
Curtis explained that today there is a 'rich, great generation' of female actors to choose from, adding that six of this year's ten Oscar nominations were women.
"We are in the strange position of having wonderful actresses but there are not the same number of young men. Today, women's roles are allowed to be more interesting and complicated – it seems a golden age for actresses," he said.
Kirby agreed that today's acting landscape feels unique and empowering for women and 'as actresses we should ask for parts that are as interesting as men.'
In their closing comments, the pair spoke of their commitment to philanthropic endeavours outside their careers. Curtis, who is co-creator of the charity Comic Relief along with comedian Lenny Henry, says the famous charity began as something of a fortunate accident. "When we first came up with the idea, we simply got a bunch of comedians together and it raised more than we thought – £15 million. And then the next time we did it, we raised £27 million. When you're capable of raising those sums, it would be immoral not carry on with it," he said.
Kirby also spoke emotionally of her work with children's conflict relief charity War Child. The actress said she views working with the charity as an antidote to self-absorption. "As an actress, everything you do is about your image and my biggest fear is becoming self-absorbed. I want to do War Child work for half of my time."
"Around one in six children live in a war zone, and they are often traumatised. This younger generation is going to inherit our earth and so there is a responsibility to make their lives better."
Event Photographs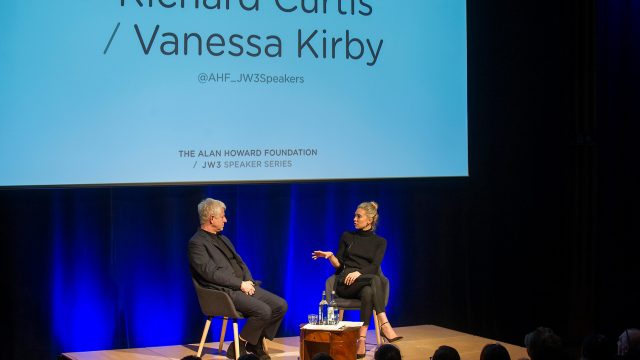 View photos of the event
Featuring
Richard Curtis is a screen writer and director, responsible for films such as Four Weddings and a Funeral, Notting Hill, Bridget Jones's Diary, Mr. Bean, Love Actually, The Boat That Rocked, About Time and most recently Trash and Esio Trot.
Biography

Vanessa started her acting career in a series of hugely successful theatre roles from Shakespeare to Arthur Miller, achieving rave reviews and for which she was nominated for the Ian Charleson Award for three consecutive years.
Biography
Go to full events archive