Event Summary
Speaking at JW3 in London on 8 May 2017, bestselling author J.K. Rowling told the audience about the singular moment that spurred her to become a prolific philanthropist.
"It was 12 years ago and I was pregnant with my youngest child. I saw a picture in the newspaper… it was a baby in an orphanage tied to a cage bed. I had a visceral, shocked response to it. It was then that I decided I must do something."
In 2006 the author and creator of wizard-child Harry Potter started Lumos, an NGO that aims to end the institutionalisation of children worldwide. The name 'Lumos' comes from the light-giving spell in the Harry Potter books. The international charity began its work by focusing on countries in Central and Eastern Europe, where there has been a culture – a legacy of the former Soviet communist system – of placing vulnerable children in institutions, rather than supporting families to stay together with quality health, education, and social services in the community.
Speaking on JW3's stage, Rowling told ITV News at Ten presenter Tom Bradby, "There are around eight million children globally shut away in awful conditions. It's abuse on an epidemic level. About 80 per cent of the children housed in orphanages are not actually orphans – they have families who love them but the parents are forced to give them up through poverty or lack of skills." Rowling added "putting children into orphanages is preventable and reversible."
"Putting children into orphanages is preventable and reversible"
There is 80 years worth of research to prove the damage that institutionalisation can wreak on children's lives. Life outcomes for institutionalised children are often poor, said Rowling.
One study on  institutionalisation showed: 1 in 5 committed crimes,  1 in 7 became a prostitute, 1 in 10 committed suicide.
Rowling told the audience that Lumos' mission was to end child institutionalisation globally by 2050 by creating the necessary health, education and support networks for children and parents to allow them to stay together.
Georgette Mulheir, the CEO of Lumos, was also invited on stage to join Rowling, who is founder and life  president of the organisation. Mulheir gave a moving presentation that detailed the horrors of modern institutionalisation. "Many orphanages are money making schemes for unscrupulous people or they are trafficking hubs," she said. The CEO urged donors to redistribute their funds into community based services.
"Many orphanages are money making schemes for unscrupulous people or they are trafficking hubs"
Mulheir told the audience that there is no need for children to be in orphanages. "I've never come across a circumstance where it isn't possible to turn it around or find an alternative."
Since its inception Lumos has saved 18,000 children from institutionalisation. Rowling concluded, "We want to get every child out. It's bleak stuff but there is hope."
Event Photographs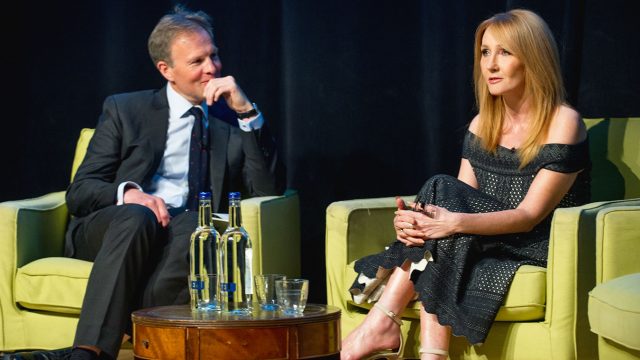 View photos of the event
Featuring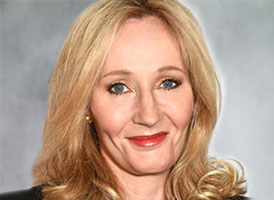 J.K. Rowling is the author of the bestselling Harry Potter series of seven books, published between 1997 and 2007, which have sold over 450 million copies worldwide, and have been turned into eight blockbuster films. 

Biography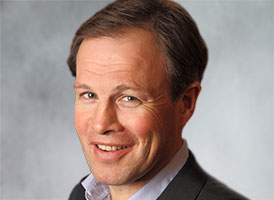 Tom Bradby is a journalist, novelist and screenwriter. He is currently Anchor of ITV's News at Ten and host of the political discussion series 'The Agenda'.
Biography
Go to full events archive