Biography
Former Chair of the Charity Commission, William Shawcross CVO, is a Senior Fellow at Policy Exchange. His focus of study is extremism in public life, including anti-Semitism and anti-Muslim prejudice, as part of a new book project he is working on.
Mr Shawcross was a Member of the Council of the Disasters Emergency Committee; board member of the International Crisis Group; and a member of the UN High Commission for Refugees's Informal Advisory Group. His previous books include the official biography of the Queen Mother and Justice and the Enemy: Nuremberg, 9/11, and The Trial of Khalid Sheikh Mohammed.
William's knowledge of international justice stretches from early boyhood. His father, Hartley, was Chief British Prosecutor at the Nuremberg Trials and served in the Attlee Government.
Related Events

General David H. Petraeus, one of the most prominent U.S. military figures of the post-9/11 era, and former Director of the CIA, will be talking about the role of the military, and what it takes to be a leader in some of the most difficult and extraordinary situations.
Go to Event
Upcoming Events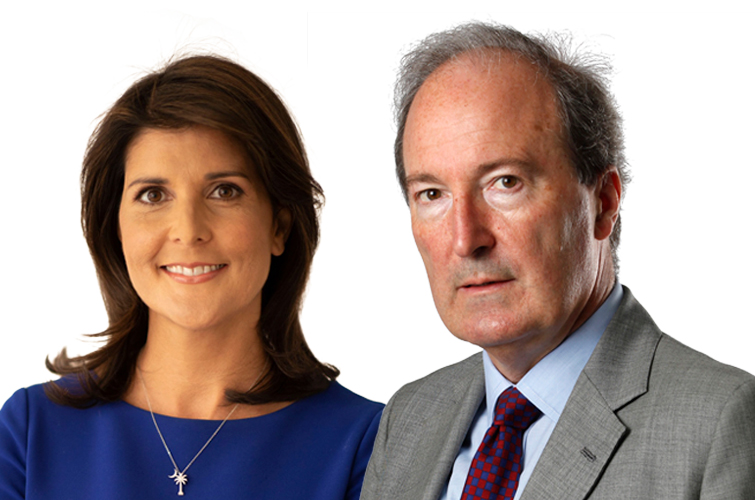 Nikki Haley is the former United States Permanent Representative to the United Nations. She served as a member of President Donald Trump's Cabinet and the National Security Council. Ambassador Haley has spent her career safeguarding human rights, defending Americans' interests on the global stage and championing education and reform.

Go to Event
Go to upcoming events
More Speakers

George Osborne is the Editor of London's Evening Standard newspaper and was the UK's Chancellor of the Exchequer from 2010 to 2016 and First Secretary of State from 2015 to 2016.
Biography