Event Summary
David Cameron offered some frank reflections on his time in office, as well as the current state of play in British politics, to a packed audience at JW3 this week. In conversation with historian Simon Sebag Montefiore, plenty of ground was covered by the former Prime Minister during their hour-long talk.
Montefiore allowed Cameron to go over the thought-process behind his recently published autobiography For The Record, which came out in September 2019. "Sorry about the length!", Cameron laughed of his memoir, which stands at over 700 pages. "When I left office…I wanted to set out what I thought, what I thought had happened, what I thought I'd got right, what I thought I'd got wrong," he explained. As such it is a book which only a Prime Minister could've written and helps to explain his own motivations and feelings behind the myriad of significant decisions made over the course of his tenure.
"I wanted to set out what I thought, what I thought had happened, what I thought I'd got right, what I thought I'd got wrong."
Capturing the sense of daily mayhem at Number 10, which also made it a challenge to turn into a book, he noted that there can be at least five calls per day of great significance, but the trouble is "things don't happen thematically. They all happen at the same time". For instance, one day alone opened with meetings on the Fukushima earthquake in Japan, the Ebola outbreak, and an IRA terrorist attack in Northern Ireland.
In particular, Cameron spoke candidly of the foreign policy issues that came up during his premiership. He told of how "anything that involved our armed forces…that would lead to some sleepless nights", and that the conflicts in Libya and Syria posed particularly tense moments within in his tenure. There was also a chance to talk of his relationships with other world leaders. He spoke with fondness of Barack Obama, noting that the 'Special Relationship' was very much a reality when they were both in power.
"Anything that involved our armed forces…that would lead to some sleepless nights."
He recalled one evening, when Cameron had taken an overnight flight to Washington and gone straight to Ohio with Obama to watch a basketball game together. Exhausted after the long trip, the President kindly offered up his own bedroom suite on Air Force One and tucked in the Prime Minister so he could get some rest. "I bet Roosevelt never did this for Churchill", Obama joked.
Montefiore turned the conversation to touch on some of the figures which Cameron shared government with. He spoke glowingly of his bond with George Osborne, who served as Chancellor from 2010 to 2016. Keen to avoid the rifts of Nigel Lawson and Margaret Thatcher, and later Gordon Brown and Tony Blair, Osborne and Cameron agreed early on that they would work together, and while there were disagreements in private over certain issues, they would always maintain a public, allied front. "He was a brilliant partner and he was a brilliant Chancellor," Cameron said. "I think good Prime Ministers have to be great team builders".
"I bet Roosevelt never did this for Churchill."
He showed admiration for incumbent Prime Minister Boris Johnson and rebuffed the media narrative that the two were constantly in competition. "I was very keen to get him to be our Mayoral candidate," he said of Johnson's successful campaign to become Mayor of London, describing him as a man of many talents. He even spared a few words for Dominic Cummings, the director of the Vote Leave campaign and current Chief Special Adviser to Johnson. "I have the unique distinction of actually firing Dominic Cummings twice!" he laughed, before going on to praise Cummings' intelligence and hard-working nature.
Inevitably, the discussion turned to the EU Referendum, Brexit and its consequences. Cameron maintains that the Referendum had to take place sooner or later and he pointed out that every major political party has made manifesto pledges to holding a referendum on the EU at some point between 2005 and 2015. While the result caused disruption to Theresa May's premiership, it ultimately created the conditions for Johnson to win an outright majority in 2019.
Montefiore concluded by talking over Cameron's current work as President of Alzheimer's Research UK, a noble and rewarding passion for the former PM. Having already helped to raise millions for dementia research, Cameron wants to raise millions more and continue the quest to combat the condition.
Event Photographs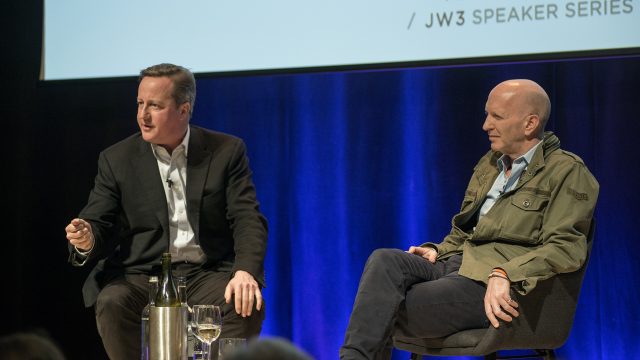 View photos of the event
Featuring

David Cameron was born in 1966 and attended Eton College and Oxford University. He became the Member of Parliament for Witney in Oxfordshire in 2001. Four years later he was elected leader of the Conservative Party where he implemented a programme of modernisation.
Biography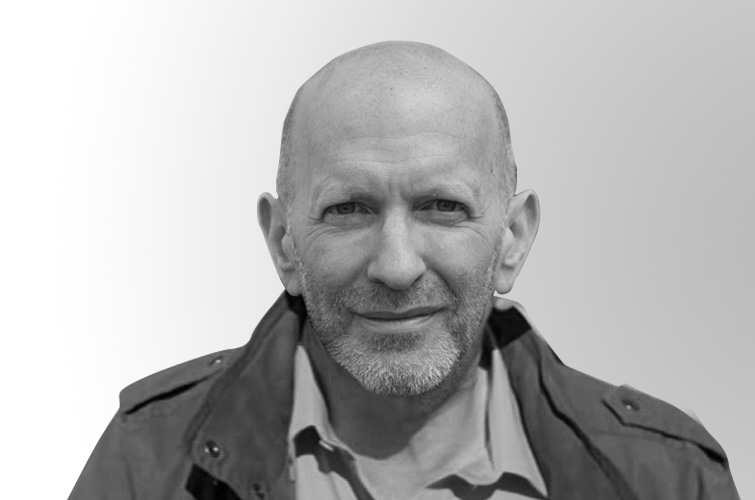 Simon Sebag Montefiore is a prizewinning historian and novelist whose bestselling books have been published in over forty-eight languages and are being developed for the screen by producers such as Angelina Jolie, Lionsgate, Universal, Netflix, 21st Century Fox and FilmFour.
Biography
Go to full events archive