Event Summary
Addressing a packed audience at JW3 cultural centre in London on 7 June 2016, world famous ceramicist Edmund de Waal was visibly moved as he asked a packed audience, "What is it like not to have the things you love near you?"
In his talk, 'On Homelessness', the artist explored his seven-year journey towards writing his bestselling family memoir 'The Hare With Amber Eyes', a book about 'what home might mean.'
Through the making of pots, Waal has a unique sense of appreciation for the secret lives of objects. When he inherited a collection of 264 tiny Japanese wood and ivory carvings, called netsuke, he wanted to know "who had touched and held them, and how the collection had managed to survive."
De Waal told the audience how he discovered both the story of the netsuke and of his family, the Ephrussis. A nineteenth-century banking dynasty in Paris and Vienna, the Ephrussis were as rich and respected as the Rothchilds. Yet by the end of the World War II, the netsuke was all that remained of their vast empire.
Tucked away inside a mattress by Anna, a loyal maid in Vienna during the war years, the collection had been passed down through five generations, providing a common thread for the story of the Ephrussi's fortunes from 1871 to 2009.
"I spent seven years tracing this story, of a family that starts somewhere and ends somewhere else. Seven years is an unbelievably long time."
In the end, it was de Waal's plucky grandmother who brought de Waal's great-grandfather and de Waal's eight-year-old refugee father to safety in Britain's Tunbridge Wells after the Nazi exile. Ultimately the netsuke would then travel to Tokyo, Japan, where a wide-eyed 17-year-old de Waal would first see the netsuke taking pride of place at his beloved Great Uncle Iggy's home.
"I wrote the book so that my father would talk. He would always say 'I can't remember, I remember nothing'. And I wanted to hear his stories, and I wanted him to talk to my children. He did eventually talk and that's when I realised this book was all about homecoming."
De Waal explained how his moving historical journey affected him deeply and inspired several art installations that are now showing in Berlin.
"I wanted to explore memories and home. What is memory? Perhaps memory has its own place. I created a temporary home where memories can live."
Event Photographs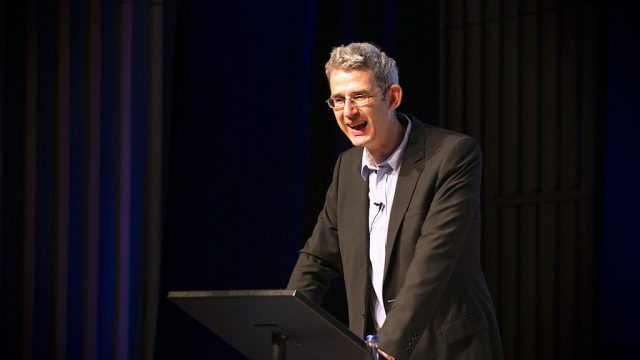 View photos of the event
Featuring

Edmund de Waal is a British artist and author of the bestselling memoir 'The Hare with Amber Eyes'.
Biography
Go to full events archive